Machining is a process that allows the removal of material, so as to give the workpiece the shape and dimensions required, using a machine tool. By this process, we obtain pieces of great precision or the moulds which will be used for the production of the parts by plastic injection.
Many sectors of activity use machining such as Automotive, aeronautics, industry, and retail.
It is the type of material that makes up the piece that you want to machine that will determine which tool to use, and the machining centre adapted to the task.
The machine park is driven by experienced engineering offices in order to meet all customer requests in accordance with the specifications in a wide variety of fields.
The versatility of the OPMM Machine Park allows to machine and mill all types of materials: wood, steel, aluminium, resin and plastics.
Our different machining centers
3-axis Machining Center
1 Arpege Tenor 1050x650x650
1 Arpege Tenor 1360x650x700
1 Campro 1400x740x710
1 John Ford 2100x1770x800
5-Axis Machining Center
1 Breton 2500x2000x700
1 CMS 3600x2600x1200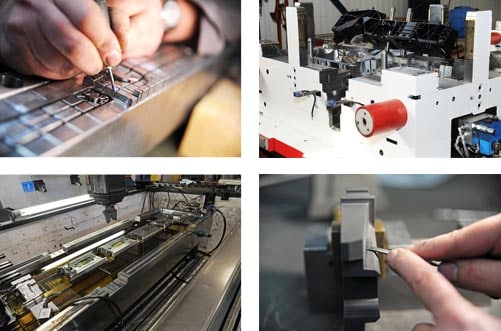 Our
various methods of machining and control 
Milling
10 Milling machines including 3 UGV with races up to 3600 x 2700 x 1250 mm and a table weight of 20 tons.
EDM erosion
4 Sinking erosion Machines with bins up to 1700 x 1000 mm
Wire erosion
Bower: 350 x 360 x 400 mm
Deep drilling
CN Max Drilling Ø 37 Length: 2 000 mm
Flat Grinding
3 Grinders with races up to 2000 x 900 mm
Control tool
2 three-dimensional large capacities: 2 440 x 1 200 x 1 500 mm
Our means of finishing
Press to present
4 presses to present high

capacity injection

moulds up to 4300 x 2700 x1700 mm
Injection Press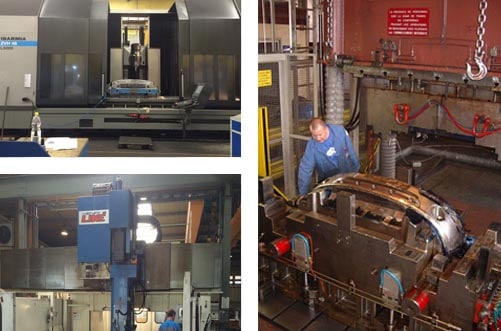 The OPMM Machine Park allows machining by turning and/or milling.
The shooting
The filming takes place using a tool called Tower, and is used primarily to machine revolution parts. To do this, the piece is fixed on the lathe and then turned on itself in order to be worked. There are different types of towers, depending on the material you want to work to choose the right turn.
Milling
Milling is done using a tool called strawberry. It is a cutting tool, allowing to remove material from blocks in order to machine all kinds of mechanical parts, in the unit or in series.